`

SHIPMATES
ON ETERNAL PATROL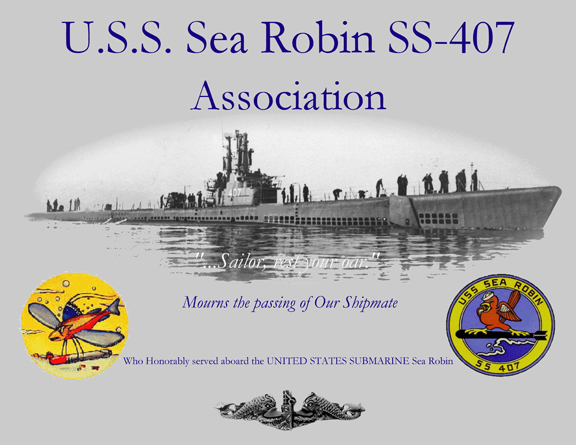 This list has been compiled using personal notifications, published announcements, and word-of-mouth.
But sometimes even our best efforts go unrewarded and mistakes are made.
Please be assured that A DILIGENT EFFORT has been made to verify its accuracy by employing a variety of research methods.
The Webmaster requests IMMEDIATE NOTIFICATION of any inaccuracy or omission.
Lost Harbor
There is a port of no return, where ships
May ride at anchor for a little space
And then, some starless night, the cable slips,
Leaving an eddy at the mooring place . . .
Gulls, veer no longer.
Sailor, rest your oar.
No tangled wreckage will be washed ashore.
by Leslie Nelson Jennings

11/28/2022
SS-407 WWII War Patrol Service
Obit on File
SD2(SS)

1963

1967

Galicano S

Abaloyan

CA
7/13/1996

IC2(SS)

1960

1961

James A.

Adams

CT
6/21/2018
Em3/c

1944

1945

Charles Henry

Allan
MA

10/4/1989

QM2/c

1944

1946

Ray L.
Allard
FL

12/15/1999

Bkr1/c

1945
1947

Howard Ardell

Allen

MN

12/20/1993

Bkr3/c

1944

1945

Ronald Quentin
Allen
CT

12/20/1993

CS1(SS)
1951
1954
Edwin S.
Allison
MA

1/28/1996

ENC(SS)
1953

William P.

"Coondog"
Allison
CT

Dec 1986

ENC(SS)
195?

195?

Frank G.
Alton
CT
10/23/2011
RM2/c
1947

1948

David E.
Ankeny
WY

April 1980

SO2(SS)

Francis W.
Antonelli
CT

1/26/2000

Sm2/c

1944

1945

Winton W.

Armstrong

IN

10/4/2019

TMC(SS) -COB
1948
1954
Libero G.
Asci
CT

Nov. 1965

ST1(SS)

1962

1965

William C.
Ashe
CT

5/10/2003

LT - XO

1952

1953

Dean L.

Axene

FL

12/19/2008

MM3(SS)

1964

1966

George M.

"Mike"

Bachman

NJ

5/19/2009

MoMM3/c

1945

1946

Roy

Barke

MN

6/10/2006

SN(SS)

1957

1957

Norman P.

Bardsley

RI

12/8/2011
RM1(SS)

1963

1965

Richard J.

"Black Bart"
Bartsch
ME

March 1986

ENC(SS)

1948

1952

Roy W.
Bateman
NH

1/14/1994

LTjg

1948

Leonard F.
Bathel
MA

Dec. 1975

QMC(SS)

1962

1964

Robert "Mike"
Belanger
VA
2/28/1998
EN2(SS)

1962

1964

James H. "Bumper"
Bell
ME
1/06/2008
LTjg

1945

R.E.
Bellew

6/14/1994

QM3(SS)

1948

1948

Joseph P.
Belmont

ID

6/2/2014

E7(SS)

Henry W.

Benjamin

7/9/1982

EN1(SS)

1946

1956

Lionel R. "Benny"
Benoit
MA

3/25/2012

CDR - (CO)

1968

1969

Frank R.
Berkhimer
VA
12/27/2018
RM1/c

1948

Albert P.
Bernier
MA

3/26/1999

LCDR - CO

1953

1954

Albert F.

"Buzz"

Betzel

FL

5/19/2011

HMC(SS)
Paul V.
Beucler

4/28/2003

LCDR - XO

1960
1961

Oral J.

Bilderback

9/26/2016

FA(SS)
1947
1948
Charles A.
Bill
FL
5/20/2103
LT - XO

1962

Paul F.
Blackadar
NH
6/10/2001

ENC(SS)

1957

1958

Dewey P.

Blackwell

NY

8/28/2009

LCDR

1967

1969

Joseph H.

Blair

ME

11/21/2015

HMC(SS)

1957

1957

William F.

Blevins

MA

9/25/2012

EN3(SS)
1949
1951
Charles G.
Brenke, Jr
MS
1

0/2/2021

Foster D.
Bliss
VA
11/1/2018

ENC(S) - COB

1951

1954

Stanley J.

Bohara

CT

6/25/2010

LCDR - XO

1954

Joseph E.

Bonds

FL

8/28/2011
EN1(SS)
1956
Frank K.
Boughton
CT
6/17/1956
EN3(SS)

1962

1964

Alvin W. "AL"

Bouma

IL

12/30/2014
ENC(SS)
Frank
Brady

EN1(SS)

1962

1965

George P.

Brayson

CT

3/26/1985

EM2(SS)

1954

1957

LaVerne A.

"Frenchy"
Breault
MA

3/15/2005

EM2/c

1945

1945

James C.
Bridges
CA
7/27/2005
SN(SS)
1946
1947
Joseph E.
Bridgman
KS
11/27/2002

MoMM3/c

1944

1944

Gordon W.

Britten

MI

3/6/2015

CSC(SS)

1963

1963

James L.

Brown

IN

3/18/2008

LTjg

1944

1946

John H.
Bruns
NY
9/14/2002

EM(SS)

1948

1949

Jesse M.

Bryant

AR

10/23/2008

MoMM

1945

1945

Allen C. "Carl"
Bryson
CT
12/1/2008

ENC(SS)

1947

1948

Spiva L.

Buck, Jr.

CT

4/23/1969

QM3(SS)
1964
1966
John R.
Burke
OH
11/20/2021
EN3(SS)

1951

1954

Eldon E.
Bush
OK

Dec 1999

CS1(SS)
1967
1970
Robert L.
Bullard
FL
4/13/2021
EN1(SS)

1964

1966

Clyde E.
Byers

CT

Oct. 1966

EMP3(SS)

1956

1958

Edouad N.

"Ed"

Cadoret

RI

3/10/2018

EM3(SS)

1951

1951

Joseph R.

Cadrain

CT

12/22/2009

ENC(SS)

Horace H.

"Hank"

Cannon

PA

1993

MoMM1/c

1944

Marshall G.
Carbee, Sr.
NH
6/17/1999
Kenneth R.
Carlson
MI
5/29/2002
Sm1/c
1944
1944
O. F.
Carlton

MoMM2/c

45-46

1946

Frederick W.

Carnes

FL

2001

QM1(SS)
1947
1951
Henry F.
Casey
FL
4/9/2008
SO2(SS)

1953

1955

Robert A.
Casey
MA
1/17/2004

TM2/c

1944

1947

Russell N.

Casey

MA

Feb. 2004

TM3(SS)

1948

1950

Hoyal L.

Cass, Jr.

NJ

3/24/2015

EN3(SS)

1948

Robert G.

Cavanagh

NY

3/20/1998

EMCS(SS)-COB
1963
1970
Louis G.
Cegelis
NH

8/15/1989

CS3(SS)

1964

1965

Ronald James

Chance

TX

2/17/2007
RMSN

1948

1948

Charles W.

"Bill"
Chinnis

SS-407

10/22/1948

EM3/c

1945

1947

Harry P.
Christensen
OR

7/30/1998

MoMM2/c
George
Ciseski
WI

7/11/1995

LT

1953

1956

Edward
Clausner
FL
6/13/2011
QM3(SS)
1963
1965
Eric T. "Skip"
Clauson
IL
10/13/2020

SN(SS)

1948

1952

Milledge B.

"Mort"

Cloud

CT

6/29/2017
S1/c

1945

1946

Richard D.
Coan
FL
5/28/2011
RMC(SS)

1960

Paul R.
Collamore
GA

4/12/1999

TM2/c

1944

1946

James A.
Cook
WV

7/11/2001

S1/c
1944
1945
Raymond J.
Cook
WA
8/28/2020
Edward D.
Coover
AZ

3/15/1994

MoMM2/c

1944

1945

Frank E.

Cornish

CA

8/13/1998

EN3(SS)
1955
1959
John D. "Jack"
Cornell
NY
7/15/2020

MM1(SS)

1965

1966

Stephen G.

Corsale

CO

8/10/2008

S1/c

1944

1945

James P.
Cosgro
MA
12/27/2006

Tm3/c

1944

1946

Raymond I.

Cowles

CT

12/25/2009
QM3/c

1946

1946

James W.
Coyer
CA

1/20/2004

QM1(SS)
Clarence W.
Crader
S1/c

1945

1945

Walter C. "Curt"
Crews

OH

3/22/2009

EN1(SS)

1951

1952

Joseph J.

Cronin

MA

2/22/2014

SO3(SS)
1954
1957
Donald R.
Crooks
CT
4

/20/2022

TM1/c

1946

1946

Leon H.

Crouse

NY

3/16/2010

EN1(SS)

1946

1950

Howard H.

Currier

CA

5/27/2010

SOSN
1953
1954
Arthur A.
Curtis
MI
6/15/2022
ICFN(SS)
1962
1963
Howard
Dachs
SC
DEC 2019
CS1(SS)

1963

1965

William
Daniels
CT
FN(SS)

1962

1962

Gary R.
Dardia
ME
6/19/2017
Ck3/c

1944

1945

Parkes Lee
Davidson
IN

03/07/1991

QM2/c
1946

1948

William O.
Davies
CT
12/30/1987
LT
1961
1962
Albert L.
Dawson
SC
5/15/2022

CS1/c

Kenneth J.

DeBlois

MI

6/21/1995

TM3/c

1944

1945

Kenneth K.

Deitchler

MT

12/20/1993

Rm2/c

1944

1946

Ralph R.
DePalma

VA

5/11/2102







George T.

Depman

PA

1/24/2006

MM1(SS)
1965
1968
Wayne D.
Deryck, Sr.

OH

6/6/2010

QMCM(SS)

Lawrence R.

Desautels

CT

3/21/2010

TM3(SS)

1947
1949

Louis A.

Despres

ND

9/9/2015
EMC(SS)

1962

1967

George D.
Dewhurst
IN

4/15/1989

LCDR - XO

1962

Jay. N.
Dewing
VA
8/11/2006
EM1/c

1944

1946
Gordon B.
Dingman
MA

4/27/1998

EMFA

1948

Alvin L.

Doerr

IL

10/23/2007
EM1(SS)

1955

1957

Richard
Dotts
CA
5/7/2002

FCS3/c

1944

1945

Edmund J.

Drake

CA

9/12/1998

F1/c

1944

1945

Fred

Duckworth

NH

7/8/1996
TM1/c
Don R.
Duganich
IN

12/16/1997

Tm1/c
1946
1946
Thomas J.
Dumais
CT

8/2/2002

Em3/c

1945

1945

Roger A

Dungan

CO

5/17/2017

RM2(SS)

1951

1952

Paul R.

Dunham

IL

1/27/1998

TM3/c

1944

1945

Clement A.

Duonolo

MA

6/18/2009

Em1/c

1944

James D.

Duquid

PA

10/12/1986

Tm2/c

1944

Howard W.

Durrant

OR

12/12/1991

ET1(SS)

1951

1951

William V.

Dutton

6/9/2009

SN

1947

1948

Karl B.

Eagar

AZ

7/18/2018

LCDR - XO

1944

1946

Philip F.

Eckert

MD

11/23/2010

STS2(SS)

1960

1964

William C.

"Bill"

Edwards

NJ

10/29/2014

Sc3/c

1945

1945

William E.

Edwards

NC

12/29/2016

TM1(SS)

1946

1948

Edwin C.

Eldredge

MA

3/27/2012

EM1/c
Arthur E.
Elite
CA

10/28/1997

EN2(SS)

1948

1953

Dudley P.
Engle
CO

9/18/1993

TM1(SS)

1951

1956

James E.
English

RM1(SS)

1951

1952

Norman A.

Ennulat

4/1/1962

EN2(SS)

1949

1952

Henry V.

Espinosa

NM

3/11/2008

SN(SS)

1954

1955

Delmont R.

Estabrooks

FL

7/30/2001

F1/c

Max M.

Etter

FL

3/23/1996

CGM - COB

1948

Tifton C.

"TC"
Evans
SC

11/30/1994

Donald
Everett
FL
10/12/2004
SD1/c
1944
1946
Howard E.
Everett
GA

7/28/1987

END3(SS)

1945
1946

Richard L.

Everitt

CT

7/27/2006

SN(SS)

1953
1954

Anton

"Tony"

Fanflik

MD

8/20/2011

EN2(SS)

1950
1953
Robert J.

Fariello

2013

MoMM1/c

1947
1948
Elmo M.

Farmer

11/29/2009

EMC(SS)

1960

1964

Michael R.

Farrell

7/7/2010
QM1(SS)
1964
1967
Paul F.
Fay
MA
7/15/2008

LTjg

1966

1968

Robert M.

Fay

TX

11/12/2015

CS3(SS)

1964

1965

Bernard G.

"Ben"

Fazzio

LA

7/30/2011

Tm2/c

1944

1945

William H.

Felix, Jr.

PA

6/30/2010
FN
1952
1953
Ronald G.
Fellman, Sr.
PA
11/25/2022
MoMM3/c
1945
1946
Carl
Fields
OH

Nov. 2001

TMSN

1947

1948

Luke J.
Finnerty
CA

March, 1986

TM

1945

1945

Thomas J.
Finnerty, Jr.
NY

4/26/1971

QM1(SS)

1951

1952

John W.

Firth

TX

12/21/2004

YN3(SS)
1948
1948

Raymond L.

Fisher

CA

3/09/1999

STSN(SS)

1965

1968

A.H.

Fletcher

5/23/2001

CS2(SS)

1965

1968

Fred D.
Flowers
VA

May 1985

F1/c

1946

1947

Curt J.
Ford, Jr.
CT
2/5/2005

QM3(SS)

1952

David

Frank

CT

11/28/2006

GM2(SS)
1948
1951
Vernon N. "Bud"
Fraser
WA
5/13/2015

Tn1/c

1946

1946

Joseph W.

Freas

PA

6/10/2010

LCDR - CO

1959

1960

Peter H.
Freeman

4/5/1995

MM1(SS)
1962
1965
Richard
French
WA
8/22/2021
RM3(SS)

1947

1949

Robert P.
Fuhs

CA

11/14/2009

LTjg

1964

1965

Gerald R.

"Jerry"

Gallagher

MN

7/17/2014

Rm2/c

1944

1944

Charles F.

Gardineer

NY

10/30/1994

ET3(SS)

1951

1952

Richard A.

Garrison

FL

12/20/2017

EN3(SS)

1955

1956

Harvey
Gauger
NY

9/6/1997

ETM1/c

1944

1946

Gaston E.

Gauthier

MI

10/27/2009
EN1(SS)

1964

1966

John J.
Gavin
EN3(SS)

1965

Walter A.
Geigert
VA
10/31/2003
CDR - CO
1953
1954
James C.
Gibson
PA

12/05/1989

ET2(SS)
1953
1955
Richard A. "Rocky"
Glass
NM
11//11/2021

SN

1952

Jack O.

Glendening

CT

10/12/2009

F1/c
1945
1945
Hume P.
Gooding, Jr.
FL

3/29/1991

CDR - CO

1948

1952

Archer R. "Arch"
Gordon
WA
1/28/2006
SN(SS)

1956

1957

John D.
Grabski
VA

10/7/2002

LT

1945

1948

Joseph A.
Grace
NJ

2/2004

EN3(SS)
1952
Robert L.
Graham
CT
3/22/2006
EN2(SS)
1948
1951
Donald R.
Gressman
NM
1/6/2020
MoMM2/c

1944

1944

Thomas W.
Griffin
SS-407

12/22/1944

CDR - CO

1964

1966

Robert E.

Groder

VA

1/1/2010
MoM1/c

1944

1945

Warren H.
Grom
IN

3/5/2000

TM1(SS)

1947

1953

Nathan L.

Gully

TN

Dec. 1985

MoMM1/c

1944

1946

Glen Paul "Pete"

Haffey

PA

9/11/1970

MoMMC

1944

1948

Jacob (n) "Jake"

Hagopian

VT

11/13/2013
EM1(SS)

1962

1964

Joe W.
Hainer
WI
5/30/2004
EM3(SS)
1954

1957

James E.
Hall
SC
IC(SS)
1961
1963
Paul D.
Hamilton
NH
8/5/2012

QM2(SS)

1944

1948

Grover C.

Hand

CA

12/18/2012

LT

1946

1949

Patrick J.

Hannifin

CA

1/9/2014
ETCS(SS)
1949
1952
Bernard L.
Hansen
ID

4/12/2009

SC1/c

1944

1946

Wilbur S.

Harding

MI

7/9/1988

HMC(SS)

1959

1962

Henry C.

"Doc"
Hardt
VT

10/2/2004

LCDR-(PCO)

1955

1955

Herbert B.

Harris-Warren
CT

10/1/1972

LT

1962

1964

Charles

"Chuck"

Harrison

CT

2/26/2010
EMC(SS)
Terry G.
Harter
FL

1/7/2007

FT3(SS)

1967

1968

Lloyd D.
Hartford
CA

5/2/2002

LTjg

1952

1953

John W.
Harvey
SSN-593
4/10/1963

TM1(SS)

1957

Daniel T.

"Stud"

Hegarty

MA

6/22/2008
EM2(SS)

1948

1953

Bruce E.
Heilman
PA

12/19/1997

QM3(SS)

1955

1957

James L.

"Jim"

Hendershot

AK

8/10/2017
EMC(SS)

1944

1948

Harold J.
Henderson, Jr.
CT

Dec 1986

Tm1/c

1946

1946

Timothy R.

Herman

NY

2/14/2010

IC3(SS)
1958
1960
Gary L.
Hetrick
MA
12/27/2019
EN1(SS)

1962

1965

James
Hess
CO

1991?

END3(SS)

1952

1954

James L.

Hickernell

TX

7/8/2014

SN

1953

Donald E.

Hickson

FL

10/12/2004

EN1(SS)

1947

1950

Francis E.

"Moldy"
Higgins
ME
10/27/2004

ET1(SS)

1952

1954

Roy A.

Hilt

CT

4/20/2007
S2/c

1944

1944

Anson M.
Hill
OH
3/2/2010
CS1(SS)
1951
1952
Dale A. "Sam"
Hill

M

A
6/9/2014

TM2/c

1944

1945

Robert L.

Hilley

FL

9/14/1998

F1/c
Robert W.
Hinch

PA

Nov. 1969

LCDR
Donald
Hitchcock
FL

SO3(SS)

1951

1953

Elva R. D.

Hitt

AL

8/28/2008

Rm1/c

1944

1944

Louis V.

Hoeniger

8/24/2006

TM1(SS)

1965

1968

Malvin R. "Mal"

Hoffman

CT
3/4/2016

LCDR-CO

1958

1959

Charles H.

Hoke

MD

10/8/2011

QM

1945

Leo P.
Holland, Sr.
NH
2/2/2005
QM1(SS)

1965

1968
William F.
Holland
TN
6/3/2013

MMFN(SS)

1960

1961

Dallas "Dal"

Holmberg

MN

2/14/2017
CDR - CO

1960

1962
Frank E.
Holmberg
CA

8/25/2011

EMC(SS)

1951

1952

John R.
Holmes
VA

1/7/1991

ET2(SS)

1951

1953

Robert H.

Holmes

NY

2/13/2015

MoMM2/c

1945

1945

Julius C.

Hood

CT

12/16/1991

LCDR - XO

1946

1948

Eric E.
Hopley
CA

4/25/1996

EN2(SS)

1966

1968

Lenard L.

Hovde

WA

9/12/2013

Em1/c

1944

1946

Richard E.

Hoyt

MA

12/30/2001

HMC(SS)

1947

1950

William E.
Humphreys
SC

May 1987

CTM - COB

1944

1947

William Dale

Hunter

FL

2/25/2007

FT1(SS)
Gilvies H.
Huntley

11/5/2003

SC3/c
1944
1944
James H.
Hurd
WA

9/20/1994

RM2(SS)

1966

1967

John E

"Jack"

Ilgenfritz

SC

7/12/2016







Kenneth G.

Inwrence




1/21/1994

TM2(SS)

1963

1966

Lou
Ippolito
FL
0/19/2006

EN3(SS)

1962

1966

Raymond P.

Jebing

MI

04/09/2019

ET3(SS)

1960

1960

Michael G.

Jensen

SC

12/19/2017

TMC(SS)




Halbert M.
Jester
CA

5/16/1992

EN2(SS)

1946

1949

Carl O.
Johnsen
NY

4/13/2017

EN1(SS)
1949
1955
Donald F.
Johnson
FL
11/1999
ET3(SS)

1948

1953

John B.
Johnson
TX
10/5/2009

Em2/c

1944

1945

John Case

Johnson

NY

3/12/1982

TM1(SS)

1944

1949

O V
Johnson
NC

2/23/1999

LT

1951

1953

Richard C.
Johnson
OR

9/7/1996

LCDR - CO

1962

1964

Richard A.
Johnstone
VA
12/13/1994

ENC(SS)

1948

1951

George O.

Jones

CT

4/25/2014
EM
William H.
Judy
WV

12/22/1990

RM1/c

1946

1947

Robert E.
Juleson
CA

9/5/1994

EN2(SS)DV

1968

1970

Daniel T.
Justice
TX
2/6/2005
EM3(SS)
1960
1962
Ronald
Karpius
VT
3

/25/2020

EM2(SS)

1950

1952

Thomas F.

Kealy, Jr.

NY

1/18/2010

SK?(SS)

1961

1962

Dennis P.

Keane

SC

8/31/2014

Sc1/c

1945

1945

Carroll W.

Keeton

CA

10/11/1992

MoMM2/c

1944

1945

James C.

Kelley

OR

8/31/1994

LT

1948

1951
Merrill E.
Kelly
WA
3/7/2010
TM2(SS)

1945

1953

James H.

"Stumpy"
Kelm

5/29/1990

Rm3/c

1945

1946

Shirl D.
Kemp

UT

7/21/2010

LTjg

1947

1950

Alfred F.

Kennedy

VA

11/18/2005

1944

1945

John F.
Kenney

12/31/1999

EM2(SS)

1961

1962

Kendall
Kervin
RI

2001

EN2(SS)

1948

1948

Maynard K.

Kessler

PA

June 1981

LT-XO

1956

1957

Elmer H.

Kiehl

VA

6/30/2016

YN1(SS)

1950

1952

Carl E. "Kim"

Kimmons

CT

8/4/2016

LTjg

1952

1955

William A.

Kiehl

VA

7/12/2016
F1/c
Robert W.
Kinch
PA
Nov. 1979

C. Melville

Kless

NY

11/6/1986

TM3(SS)
1962
1964
Terry
Klausen
MI
12/1/2021
QM2(SS)
1954
1955
Ronald L.
Kloch
AZ
1/29/2008

TMSN(SS)

1958

1960

William L.

Knight

MA

6/7/2012
RM2(SS)
1947
Theodore S.
Kaszuba
CT
8/15/2018
TM2(SS)

1957

Wesley W.
Kooken
TX

Nov. 1979

EM1(SS)

Joseph J.

Koron

2/24/1980

ETNSN(SS)
1963
1964
Jack M.
Kordes
PA
4/2/2012

EN2(SS)

1952

1952

Michael G.

Kozey

WI

12/18/2016

CMoMM

1945

1946

Andrew J.

Kozma

NY

06/15/2002

CMoMM

1944

Kurt H.
Krieg
PA

1/21/2005

EM3(SS)

1964

1965

Christopher E.
Kuhls
PA
12/19/2012

LT

1968

1968

John B. "Jack"

Kurrus

CT

12/11/2012
GM2/c

1944

1945

Jimmie W.
Lacy
TX
5/19/1993

SN

1947

1948

James E.

Laramy

Sept. 1970

HM2(SS)
Raymond R.
Lavoie
Sm3/c
1945
Floyd C.
Lawson, Jr.
KY
9/4/2018
Gm3/c
1945
1945
Percy A.
Lee, Jr.
TX

3/2/2002

EM1(SS)

1951

1955

Robert E.

Leeney

CO

9/2/2105

EM2(SS)
1954
1958
Robert J.
Legler
NY
10/5/2008
EN1(SS)
1946
1951
Warren A."Baby Duck"
Lentz
AZ
9/17/2008

F

1/c
1945
1945
Edward A.
Lettus
OH
11/25/1999
EN2(SS)
1955
1958
William F.
Lewis
ID
8/6/2011
CMoMM

1944

1947

Arthur A. "Pudgy"
Lidman
AZ

4/25/2003

LCDR - CO

1958

1960

John R.
Lindsay
TM1(SS)

1961

1965

Mont W. "Monte"
Lincecum

FL

12/22/2102

F1/c
Frank W.
Linsenbach, Jr.
PA
11/16/2006
EM2(SS)

1965

Edward
Lohner