"Fireclay"
NKPN
On "The Web" since 1997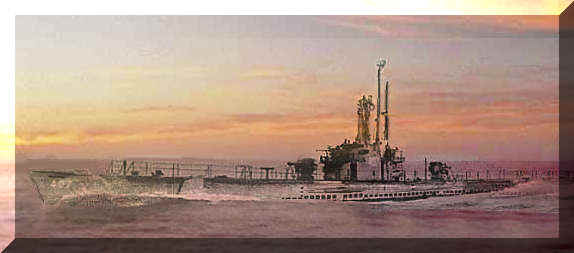 On USS Sea Robin's First War Patrol
842-34-39 USNR
was lost overboard 22-Dec-1944
On a training exercise off the coast of North Carolina
990 90 19 USN
was lost overboard 22-Oct-1948
---
---
A Poem
by Robert Harrison
---
As was the case for many of the US submarines that were constructed during the later part of W.W.II, the USS Sea Robin was to remain in continuous service up to the early 1970's. She, and many other "war veterans" remained extremely active and were vital participants in the National Defense strategy throughout the cold-war years. Many, like Sea Robin served their final years mostly in training roles.
Their numbers gradually dwindled during the later 1950's, but it was not until the 1960's that more modern submarines were operational in sufficient numbers to begin assuming the watch. For the most part, the crews, officers, and commanders of these sleek modern vessels received their initial training and gained essential submarining experience while serving aboard ships such as Sea Robin.
"Those noble ships with sonar blips once fought their way to Glory..."
"There is no heaven for old and tired boats...
Crew Members Area

Past Reunions

Photos

1998 Groton, CT

1999 Reno, NV

2000 Groton, CT

2000 Atlantic City, NJ

2001 Peoria, IL

2003 Reno, NV

2005 Branson, MO

2007 Groton, CT

2009 Charleston, SC

2018 Cleveland, OH
...Only the memories of the lives shaped within her hull live on."
---
My heartfelt thanks and appreciation are extended to the following peoples and organizations.
Without their inspiration, assistance and encouragement this site would not be possible.
USS Sea Robin shipmates, 1944-1970
Gilbert M. Bohannon, Jr.
Paul McDougald
John "STEAMBOAT" Fulton
---
ENTER YOUR COMMENTS IN OUR

Please view previous comments

I Support
these projects and causes
Silver Dolphins

for

ONLY !

---

---

SAVE THE USS LING

contact the webmaster of this site with any comments or concerns.

03/30/2021