---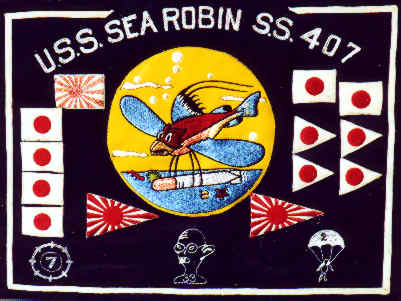 ---
From the period starting 26 November 1944 until 9 August 1945, Sea Robin conducted three successful war patrols against the enemy. In between patrols the crew took some much needed rest and relaxation as the responsible shipyard or submarine tender repaired wartime damage, updated equipment, and installed modifications. The boat was usually ready to resume patrolling in about 3 weeks time.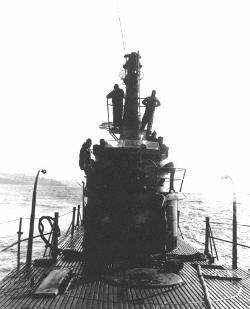 ---
In preparation for her first war patrol, Sea Robin underwent a 5 day refit during which she received VHF and APR equipment. Two 40mm guns and attendant stowage were also added. After some more torpedo and gun practice, Sea Robin was declared ready for sea on Nov 25. On 26 Nov. 1944, she departed on her
---
Sea Robin was ordered to Fremantle, Western Australia for refit at the completion of her first patrol. Sea Robin conducted training exercises from 14 – 21 February 1945. On 24 February she got underway with 40 bags of mail for other boats that were already on patrol, Pampanito, Bergall, Hawkbill, Blueback, and Blackfin. Sea Robin was ordered to patrol in the Java Sea and South China Sea.
---
Sea Robin received her refit in Pearl Harbor following her successful second patrol. During this refit, the following additions were made:
Installation of TDM

Installation of APR-5

Installation of additional radio receiver

Installation of additional 5 inch 25 cal gun and pressure proof topside ammunition stowage.
Sea Robin was ready for sea on 1 June 1945.
---
After steaming 17,443 miles on her third patrol, Sea Robin was undergoing refit at Midway when hostilities ceased. A crewman aboard Sea Robin reported:
"We arrived Midway on 9 August, and began a well needed rest. It was a long patrol -70 days and we were all pretty fatigued. On the 15th, the wonderful news that the war was over came through, which made all hands very happy."
---
After an overnight replenishment stop, Sea Robin departs PEARL HARBOR in Sept. 1945 for HOME.
After the war, many units the submarine fleet visited ports back on the U.S. mainland. Sea Robin chose to visit Galveston, TX the hometown of MoMM2/c Thomas W. Griffin who was lost at sea 22 Dec 1944. She is shown pulling alongside USS Redfin SS-272.

Photo courtesy of

Raymond I. Cowles TM3/c 1944-1945